Call 866-783-8883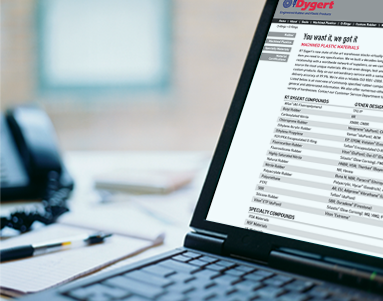 MATERIAL SELECTION
Did you know that there are more than ten different grades of Chemours™ Viton™ available for molding rubber parts? Each of these grades has a unique set of physical and chemical properties that sets it apart from the rest. RT Dygert's expert staff knows the differences in these grades and can assist you in selecting the correct one based on the specifics of your application. Our material expertise is not limited to just Viton™. We can recommend whichever type of elastomer that your application requires. Commonly recommended materials include EPDM, Nitrile, Silicone, and PTFE, in addition to those listed on the Materials section of this website. Critical parameters to consider when making a material selection incude:
Medium – What is being sealed? That is, what liquids or gases will the seal be exposed to?
Temperature – What is the temperature range the application will experience during operation? Both the upper and lower operating temperature ranges are critical information.
Static or Dynamic Motion – Will the part be stationary or will it see dynamic motion while in the application? Certain compounds only perform well in static applications and are easily worn in dynamic environments.
Maximum Operating Pressure – Useful for selecting material hardness and determining whether an anti-extrusion device is required.
Other than chemical resistance and environmental considerations, material cost is of paramount importance. When selecting the correct material for an application, cost is always considered for the final recommendation. RT Dygert will always recommend the least expensive polymer if multiple appropriate choices exist.