Call 866-783-8883

In the news
---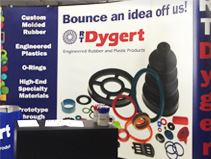 UBM TRADE SHOW
Booth #413
Minneapolis Convention Center
Minneapolis, MN 55403
November 8-9, 2017
ADVANCED MANUFACTURING AND TECHNOLOGY
---
RT DYGERT'S NEW UL LISTED F-7041 VITON™ B BASED SEALING COMPOUND FOR METHANOL BLENDED FUELS.
MINNEAPOLIS, MN (JULY 24, 2017) RT Dygert is proud to introduce its new F-7041 Viton™ B compound for methanol blended fuel applications. Now manufacturers and processors can improve performance without adding significant costs. F-7041 is designed to offer improved methanol resistance over Viton A, while offering more competitive pricing than either Viton GF or GFLT. It also continues the established reputation of premium, UL listed genuine Viton™ based compounds. For more information on F-7041's material properties or a quote, contact RT Dygert 866.783.8883 or email at [email protected].
---
RT DYGERT'S N-7003 COMPOUND GETS THE GREEN LIGHT FOR HFO-1234yf AUTOMOTIVE AIR CONDITIONING SEALS
MINNEAPOLIS, MN (MAY 15, 2017) RT Dygert proudly announces that their premium HNBR compound, N-7003, has undergone a thorough evaluation to confirm its compatibility with HFO-1234yf. HFO-1234yf (or R-1234yf) is the newest eco-friendly automotive refrigerant of choice by both European and American automakers to replace R-134a. N-7003 was tested in both R134a/PAG oil and HFO-1234yf/PAG oil mixtures with superlative results. It's also been "test driven" with millions of O-Rings and custom molded parts already in the field, and has a 100% track record.
HFO-1234yf meets EU and EPA requirements, has a global warming potential of 4 (versus 1,430 for R-134a), and is POE and PAG oil miscible. It is an easy "drop-in" replacement that requires minimal A/C system changes. N-7003's green color allows quick identification, and custom molding is available through RT Dygert.
For a copy of the N-7003 test report contact RT Dygert 866.783.8883 or email at [email protected].
---
RT DYGERT INTRODUCES NEW TECNOFLON® SOLVAY VPL-BASED FKM COMPOUNDS
SUPERIOR PERFORMANCE IN COLD ENVIRONMENTS; IMPROVED CHEMICAL RESISTANCE
MINNEAPOLIS, MN (DECEMBER 5, 2016) RT Dygert now offers two new Tecnoflon® VPL FKM compounds with exceptional new sealing properties:
F-7067: 75 durometer Solvay VPL 85540 based FKM (TR10 -40°C)
F-7068: 75 durometer Solvay VPL 85730 based FKM (TR10 -30°C)
Tecnoflon® VPL is a new series of low temperature peroxide-curable FKM grades, featuring the lowest cold temperature flexibility among all fluoroelastomers - with TR10 as low as -40ºC. It shows the lowest cold temperature flexibility; no loss of chemical resistance; and improved sealing and mechanical properties. VPL resists aggressive media like ethanol/fuel and methonol/fuel mixtures.
The unique combination of both low temperature and broad chemical resistance makes these sealing compounds ideal for demanding applications like the latest automotive engine technologies (including high performance fuel injection systems), chemical processing industries, oil drilling in excessively cold environments, aerospace, oil and gas energy markets, diesel injection, mechanical devices operating at elevated temperatures, and more.
For more information about these compounds, please call our sales department AT 866.783.8883 or email at [email protected].
---
RT DYGERT EARNS PASCAL SOCIETY BRONZE LEVEL
RT Dygert has earned the right to proudly display the prestigious Pascal Society Bronze insignia. The Pascal Society is helmed by the National Fluid Power Association (NFPA) through its Education and Technology Foundation. The organization is "dedicated to meeting the technology and workforce development needs of the U.S. fluid power industry."
The Pascal Society is named after Blaise Pascal, the French mathematician, physicist and inventor, who's law describes the fluid power's force multiplier effect. The organization unites financial and volunteer contributions from diverse contributors into one dedicated effort to develop and expand the knowledge, skills and capabilities of this vital industry.
For more information please contact RT Dygert at 866.783.8883 or email [email protected].
---
RT DYGERT INTRODUCES ITS NEW UL APPROVED N-7575 75 DUROMETER NITRILE COMPOUND
IDEAL FOR NUMEROUS PETROLEUM APPLICATIONS AND DESIGNED FOR EASY COMPOUND SUBSTITUTION
MINNEAPOLIS, MN (OCTOBER 10, 2016) RT Dygert is pleased to announce a new NBR compound, featuring numerous Underwriters Laboratories recognitions under UL Standard No. 157, "Gaskets and Seals." Based on our popular N-7079 material, N-7575 represents an enhancement with additional UL end use recognitions, as well as changes which facilitate substitution for various competitor compounds in numerous UL certified devices.
UL approved end use applications include:
B – Gasoline
C – Gasoline/alcohol blends up to 15% alcohol (ethanol and methanol)
D – Naptha or kerosene
F – Manufactured or natural gas
J – Liquefied petroleum gas (LP gas)
UL 50/50E
UL 87A & UL 2586A (static and dynamic)
UL 87B & UL 2586B (static and dynamic)
100% MTBE
---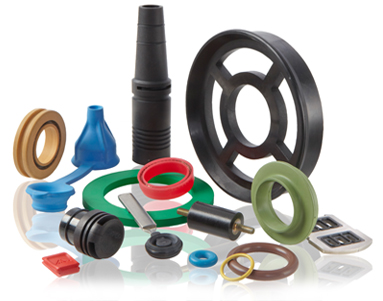 RT DYGERT RECEIVES WRAS APPROVAL FOR SIX COMPOUNDS
SEALING COMPOUNDS MEET UK'S DRINKING WATER SAFETY STANDARD
MINNEAPOLIS, MN (JUNE 23, 2016) RT Dygert now offers six compounds that are approved for use in the United Kingdom drinking water sealing applications. The compounds are:
E-6018, 60 durometer EPDM
E-7052, 70 durometer EPDM
E-7053, 70 durometer EPDM
E-8011, 80 durometer EPDM
E-9004, 90 durometer EPDM
N-8017, 80 durometer Nitrile
WRAS (Water Regulations Advisory Scheme) is equivalent to NSF 61 in the United States for safe drinking water standards. It is also widely referenced in other EU drinking applications. RT Dygert's six new compounds meet WRAS' rigid requirements, and its corresponding sealing products are deemed safe and hygienic for all public water applications in areas governed under WRAS.
WRAS' purpose is to contribute to the protection of public health by preventing contamination of public water supplies, and encouraging the efficient use of water by promoting and facilitating compliance with the Water Supply (water fittings) regulations and Scottish Water Bylaws.
For more information about these compounds, please www.rtdygert.com.or call our sales department.
---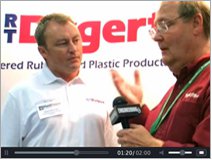 BRUCE MCCLUNG OF RT DYGERT INTERVIEWED ON ENGINEERING TV
---
RT DYGERT RECEIVES NSF 51 CERTIFICATION FOR SIX FOOD CONTACT COMPOUNDS
APROVED FOR SOLID AND LIQUID FOOD CONTACT IN MANUFACTURING
MINNEAPOLIS, MN (MARCH 24, 2015) – The National Sanitation Foundation (NSF) has approved six RT Dygert sealing materials for manufacturing applications where these materials come in contact with food products.
NSF is the largest global organization in inspecting and certifying materials that come into contact with foodstuffs. Certification requires strict criteria, testing and compliance for the purity and hygienic safety of these materials. The NSF/ANSI 51 certification applies to seals, gaskets, valves and more.
The six materials authorized for the NSF mark for food contact are:
EPDM: E-7042, Gray
NBR: N-7086, Black
Viton™: F-7044, Black
Viton™: F-7045, Green
Silicone: S-7015, Clear
Silicone: S-7021, Clear
In addition to NSF 51, these materials are also 3-A Sanitary listed and and comply with 21CFR 177-2600, "Rubber Articles Intended for Repeated Use" (with food).
For more information about NSF certified products, please visit www.nsf.org, www.rtdygert.com/materials or call our sales department at 866.783.8883.
---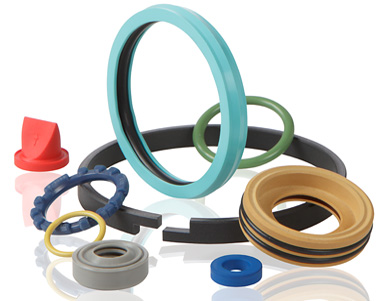 RT DYGERT BUYS HIGH PERFORMANCE SEALS COMPANY
LATEST ADDITION PROVIDES CUSTOMERS WITH EVEN GREATER DISTRIBUTION, INVENTORY AND EXPERT SERVICES
MINNEAPOLIS, MN (DECEMBER 12, 2014) - RT Dygert, a world leader in sealing solutions, now offers even greater capabilities with its purchase of High Performance Seals. High Performance Seals, an eight year old company headquartered in Auburn, Washington, provides manufacturers with quality fluid seals and molded or machined elastomeric and thermoplastic parts. It specializes in providing the products and engineering expertise for OEM applications where standard items and/or industry practices will not meet the customer's specialized needs. With the addition of High Performance Seals, RT Dygert offers customers superior services, capabilities, expertise, product selection, customization and world-wide distribution.
---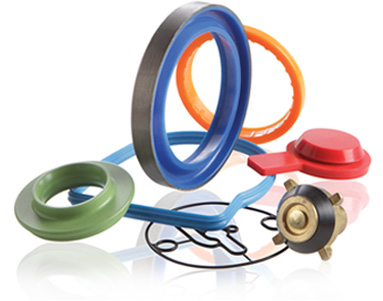 RT DYGERT AUTHORIZED TO USE 3-A SYMBOL FOR SANITARY STANDARDS
NUMBER 18-03 FOR MULTIPLE USE RUBBER AND RUBBER-LIKE MATERIALS
MINNEAPOLIS, MN (JUNE 30, 2014) – RT Dygert, a worldwide O-Ring and seals provider, has introduced seven more materials that qualify for the 3-A Symbol under 3-A Sanitary Standards, Inc. They meet the Standard 18-03 for "Multiple Use Rubber and Rubber-Like Materials," and include one NBR (black), two Viton™ (one black and one green), one EPDM (grey) and three Silicones (all translucent). The 3-A designation represents the cooperative set of standards by professional sanitarians, equipment manufacturers and processors. These groups represent associations like the National Association for Food Protection, the Food Processing Suppliers Association, the International Dairy Foods Association and the American Dairy Products Institute, among others. The designation assures products that RT Dygert supplies continue to meet sanitary standards for protecting food from contamination. For more information about our 3-A certified products, please visit www.rtdygert.com/3-a-sanitary-compounds.
---
PRESS RELEASE
AUGUST 19, 2013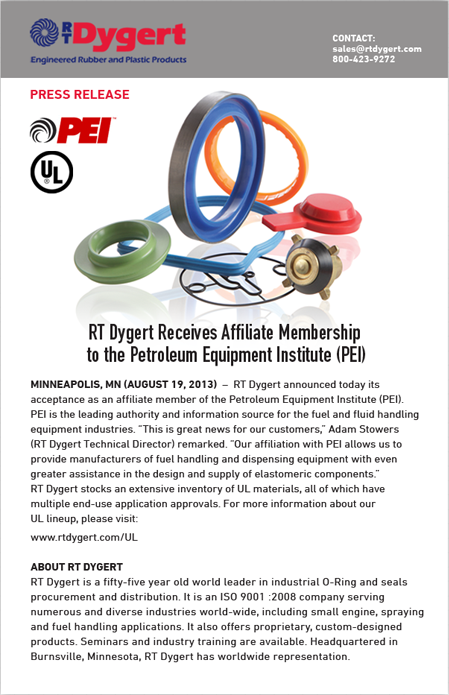 CONTACT:
866-783-8883
12121 Nicollet Avenue S., Burnsville, MN 55337
2700 S. River Road, Suite 106, Des Plaines, IL 60018
© 2014 RT Dygert. All rights reserved.